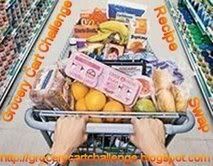 Yep, you're in the right place. This is the Grocery Cart Challenge Recipe Swap where you can share your favorite recipes and gather some fresh ideas for your own menus. If you'd like to participate….

Post your recipe on your blog with a link back to this site.
Enter your name and the link to your recipe in the Mr. Linky at the bottom of this post.

This week I'm sharing a recipe called Chicken and Rice Casserole that I got from my well worn Fix It and Forget It Lightly cookbook. It's a crockpot recipe, which is what we survive on between the months of September to January.

Chicken and Rice Casserole

1 cup long grain rice, uncooked
3 cups water
2 tsp chicken bouillon granules (or 3 low sodium cubes)
10 ¾ ounce cream of chicken soup (I like fat free)
2 cups cooked chopped chicken
¼ teaspoon garlic powder
1 tsp onion salt
1 cup grated low fat cheddar
16 ounce bag frozen broccoli (sometimes I use fresh)

Combine all ingredients except broccoli in slow cooker. One hour before end of cooking time, stir in broccoli. Cook for a total of 3-4 hours on high or 6-7 hours on low.
Now it's your turn.