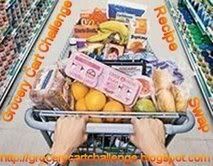 Welcome to The Grocery Cart Challenge Recipe Swap. This week's edition is all about cheap dinner recipes. You know, the tried and true recipe that you pull out when it's the last day before you grocery shop? Yep, that one!
So here are the guidelines….
1) Post your recipe on your blog with a link back to the Recipe Swap.
2) Next, come here and put your name and your link in the Mr. Linky Box. (Please make sure you link back to the exact post and not just your blog address in general.)
3) Then go through the list of great ideas and add them to your OWN collection.
Pretty easy right?
And if there is any smarty pants out there who know how to make one of those nifty graphic buttons and would love to design one for our Recipe Swap, will you send me an e-mail? I'd like to have our Very. Own. Button. It would make me feel all cool and stuff.
And if you have any name suggestions better than The Grocery Cart Challenge Recipe Swap I'm all ears.
Ready….Set….Go….
****A BIG GINORMOUS ECSTATIC Thank You to
Lorie
and
Jen
for providing our totally cool button. You can grab the graphic on my sidebar.